I don't sew often or well. But I do believe in heirlooms and making memories and building traditions. I do believe in fortifying faith. And so, sometimes I sew.
Specifically, I make my children a comforter to commemorate their baptism in The Church of Jesus Christ of Latter-day Saints and their confirmation, wherein they receive the gift of the Holy Ghost.
This is an important landmark of spiritual progression, and a time I want them to always remember. Heirlooms and traditions help bookmark this point in time, preserving it as a treasured memory.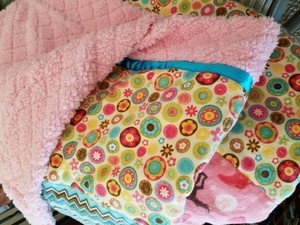 So, with my rudimentary sewing skills, I create what I hope will become an heirloom in their future families. (And I use vintage sewing supplies passed down from my grandmother!) Each comforter is made with fabrics and colors chosen to match their interests, and designed to remind them of the great gift they received at age 8. But not the gift from me…
The gift I want them to always treasure is a manifestation of a beautiful promise made by our Savior Jesus Christ when he was on the earth with his disciples:
16 And I will pray the Father, and he shall give you another Comforter, that he may abide with you for ever;

26 But the Comforter, which is the Holy Ghost, whom the Father will send in my name, he shall teach you all things, and bring all things to your remembrance, whatsoever I have said unto you.
Each time my daughter cuddles up in her new heirloom comforter, I hope she'll remember the special memories from this time. I hope she'll know that, just as this comforter envelops her in warmth and security, she can always access the comfort and guidance of the Holy Ghost.
And I hope she feels my love sewn in every stitch.
What heirlooms and traditions are important in your family? How do you make and keep memories? I'd love your thoughts; please share below! And if you liked this post, please share on Facebook.
You make memories. We make them last.